After almost 12 months of unhealthy eating and minimal exercise, I'm willing to bet I'm not the only one looking to make some lifestyle changes that go way past January (let's not even talk about alcohol consumption). Who knew we'd ever face a global pandemic, and just how much it would affect our diet and general well-being?
Thankfully, healthy eating options have come on leaps and bounds in recent years, and supermarkets have caught up in a big way. When we were asked to try out some of Marks and Spencer's newest Food Hall additions, we didn't need asking twice.
Their January 2021 healthy eating launch showcases their biggest ever range of products, and boasts everything to plant-based goodness, low-calorie treats and an impressive nutritionist approved Eat Well range.
Here's our hot picks from the new range that hit big in the flavour department.
Eat Well Sunflower Range
Carefully designed with the help of in-house nutritionists Laura Street and Sophia Linn, the M&S Food Eat Well range is bursting with colour and goodness, without compromising on taste. In short, it takes away the headache associated with following a balanced diet.
The mighty Buddha Boost Bowl has already become a bestseller, as we discovered when we had to make not one but three trips to finally grab one. Each bowl is loaded with mushrooms, black rice, butternut squash, kale and turmeric and provides an impressive 2 of your 5 a day. Proof that you don't need meat to get a tasty, protein hit.
Meat lovers need not worry, however, as the likes of the Smoky Chipotle Chicken and Teriyaki Chicken & Black Bean Rice are all part of the range. Personally, we loved the Turkey Meatballs, which come served on a bed of butternut squash spirals with courgette and feta. Another delicious, high protein option that serves up 2 of your 5 a day.
Count on Us Range
Counting calories really can suck at time, which is why the M&S Count on Us collection is something of a god send. Dishes such as the Pan Fry Indian Chicken Masala and Creamy Singapore Chicken Noodles are all welcome arrivals, but we couldn't get enough of the Thai Style Green Chicken Curry.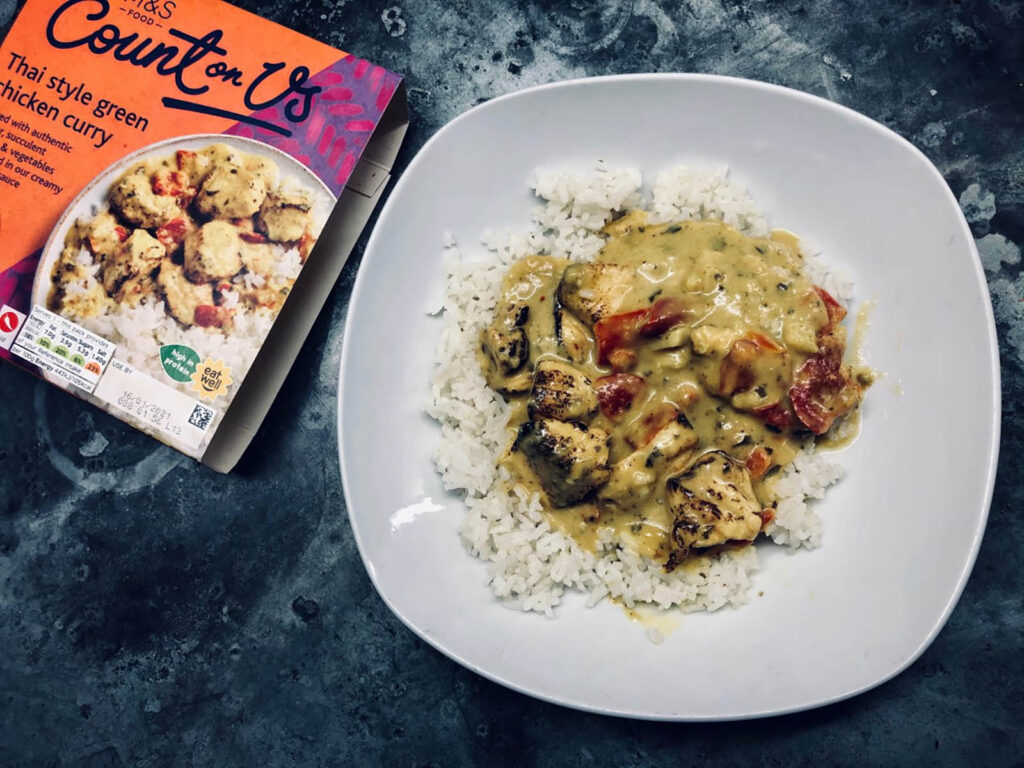 It's great to see one of our all-time favourite exotic dishes given a low-calorie makeover that doesn't disappoint the tastebuds. We added a sprinkling of chilli flakes for some extra heat and highly recommend you check this one out. The Smokey Mexican Style Bean Chilli also caught us by surprise, offering a rich and aromatic meat-free alternative to traditional chilli.
Protein Power
Perhaps our favourite new drop in the M&S Food 2021 range is the selection of Protein Power on-the-go salads. Perfect for brightening up lunchtime when time is a premium, we could honestly eat these bowls permanently 5-days a week.
The Bang Bang Chicken Salad blends marinated breast meat with edamame beans, cabbage, red pepper and a crunchy peanut salad. Accompanied with a tasty peanut, coconut, and chilli dressing, it's a real winner and is also available in a vegan form, substituting chicken for chunks of wheat and pea protein.
Featuring some of the fattest, juiciest king prawns we've seen in a long time, the Chilli Sesame Prawn Salad is another dish you need on your shopping list. Blessed with sesame spiced prawns, edamame, cabbage, and courgette salad, and finished with an irresistible lime, honey, soy, and chilli pad Thai style dressing, it's an absolute treat for the tastebuds.
Our final fave from the salad collection is the Katsu Chicken Poke Bowl, which comes with a delightfully creamy curried mayo dressing. A dish so full of robust flavours, it's easy to forget all the good stuff that's packed in here.
Plant Kitchen
Whether you're an all-out vegan or a free-spirited flexitarian, the M&S Plant Kitchen has got plenty of tricks up its sleeve to keep you coming back. As well as launching a No Beef Steak Bake and some No Pork Streaky Facon, they've got one of the UK's most diverse plant-based ranges.
We absolutely loved the Plant Kitchen Spinach Ravioli, which is made with fresh Italian pasta and filled with spinach and crushed white beans. Served with a healthy dollop of green pesto, this is vegan food at its best.
If you like some rainbow colours on your plate, then the Edamame & Black Rice Salad is the one. Loaded with vibrant beetroot, kale, carrot and spinach, the addition of cashew nuts completes this surprisingly filling salad bowl.
Happy Snacking
Snack fiends will be pleased to know they've not been left in the dark, as M&S welcomed some bold new arrivals to their shelves in 2021. As something of a tortilla chip addict, I was pleased to discover the delicious Wholegrain 3 Seed Sweet Potato Crackers, which are high in fibre and lower in calories than your regular chip.
The Bluecorn Tortilla Chips are another win, tasting like a regular chip despite blue corn having more health benefits than traditional corn. They go perfectly with M&S Smoky Chipotle Salsa. For a more low-calorie snacking option, the Popped Not Fried Hot Wasabi Corn Chips are just 95 calories per portion and have a generous kick of heat for spice lovers.
Drink Your Veggies
If you're looking for a healthier alternative to traditional smoothies and fruit juices, then the Cold Pressed 80% Veg Juice range is a great way to pack in your five a day. As someone who prefers my smoothies a little sweeter, I tried pairing the Cold Pressed range with the M&S Super Smoothie range. This turned out to be an ingenious idea.
Green & Clean blends spinach, cucumber, pear, kale, romaine, and lime, and is loaded with vitamin C. I discovered mixing it with the Super Smoothie Heart to be perfect cocktail, with the mango, avocado, pear and matcha adding just the right amount of sweetness.
The Cold Pressed Get Up & Glow, with carrot, orange, passion fruit and turmeric, can be used to make another great Super Smoothie cocktail with Immune Support, which includes orange, lemon, ginger, and linseed.
Having tried just a small fraction of the dishes and snacks available in the M&S Food 2021 healthy living range, we were left bowled over with some of the new ingredients and forward-thinking flavour combos. We'll be back to try more in our mission to get fit and healthy in time for spring and summer.
For more tasty inspiration, head to the M&S Food healthy eating hub.