How Window Film Can Benefit Your Office?
How Window Film Can Benefit Your Office – Employees spend a lot of their time in the office, which is why it's important to create an office environment that is inviting, boosts morale and productivity, and improves the health and wellbeing of your employees. One of the most effective ways to achieve this is to modernise the space. Fortunately, there are a variety of different ways that this can be achieved, including adding window film into your office. Let's take a closer look at how window film can help benefit your office space, below.
Reduces Glare
Window film can help to create a more functional interior environment, so viewing computer screens is easier and employees are able to be more productive. With the average office worker spending up to 7 hours a day on their computer, eliminating the glare from the sun can make it easier for your employees to see the screen and reduce additional strain on their eyes. Window film not only cut downs on glare, but also allows natural light to be let in, resulting in employees being able to focus on their work better and thus improving productivity.
Lowers Energy Costs
Over time, window film will pay for itself as it saves you money on your monthly energy bill. This is highly important for businesses with energy costs being one of the biggest expenses. When the sun shines into the office, this increases the temperature and means that the air conditioning system needs to work harder to regulate the temperature. However, by placing window film onto the windows, this will block the heat coming into the office space and mean that your air conditioning won't need to operate as efficiently.
Elevates Décor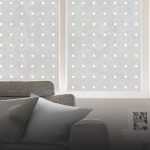 Window film is available in a variety of different patterns, so you can choose a design that will give your office a unique look and elevate the décor of your space. In fact, if you're looking to modernise your office, decorative window film is one of the most cost-effective ways to achieve this. You could even choose a frosted film for a sophisticated look for your office space.
Alternatively, if you want to enhance and reinforce your company's image in your waiting room or meeting room, you could add a personal touch by installing a branded window film. Blend privacy and branding together by adding your company's logo to a frosted window film.
Improves Safety
Damage from poor weather conditions, natural disasters and other accidents can cause glass windows to break. However, by covering your windows with film, they are less prone to shattering than windows that are uncovered. In turn, this will prevent glass shards from entering the building and protect both the property and people.
Increases Security
By having window film on your windows, you can help to increase the security at your office. Expensive equipment, such as computers and other electronics can catch the eye of a thief as they walk past the office. However, by covering your windows with office window film, you're able to eliminate temptation and protect your office from potential burglaries.
As you can see, there are number of benefits of installing window film onto the windows of your office. Find a design that suits your brand and create a modern office environment, today.  
Click here for more Health